Bachelor of Science (General) Degree
Currently the Faculty of Science offers B. Sc. General (3 year) and B.Sc. Special (4 year) Degrees in biological and physical science streams and Bachelor of Computer Science (BCS) General and Special Degree programmes. These are full time courses consisting of a number of course units organised as two semesters per academic year. The General Degree Programmes run through six semesters while the Special Degree Programmes run through eight semesters. Examinations and evaluations are held throughout each semester.
In the Faculty of Science there are two main streams of study as given in the table. In addition to the Course Units under subject areas given in the table, several other Course Units from different disciplines are also available as Optional Course Units. The denotations of such Course Units begin
with FSC. For a degree programme each student should select Course Units from the relevant stream. Mathematics is a compulsory subject for the degrees offered under physical science streams. Students who follow Biological Science stream are strongly advised to follow Chemistry as a subject.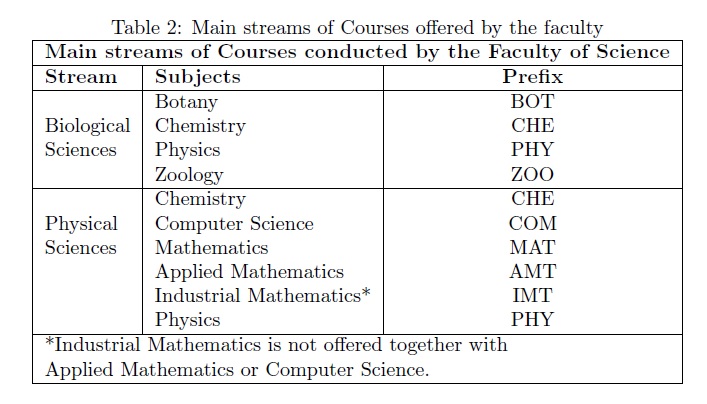 A Course Unit is a selectively organized section of a subject. Course Units are of two types, that are Core Course Units and Optional Course Units. Core Course Units are designed by including basic and essential subject matter. Optional Course Units contain specific areas, which would provide a diverse knowledge on a particular subject. Theory Course Units consist of lectures, assignments and tutorials. Practical Course Units are either laboratory based or field based studies of a particular subject. In addition, there are Course Units which consist of project work and Combined Course Units consist of both theory and practical components. Course Units are organized at three Levels, namely, I, II and III for the General Degree. On the performance at the examinations of Level I and Level II and on application by the students, a student shall be selected to follow a Special Degree in a particular subject area. The duration of a Special Degree program is four years in total. Special degree program consists of two academic years, namely Special Degree Level I and Level II.